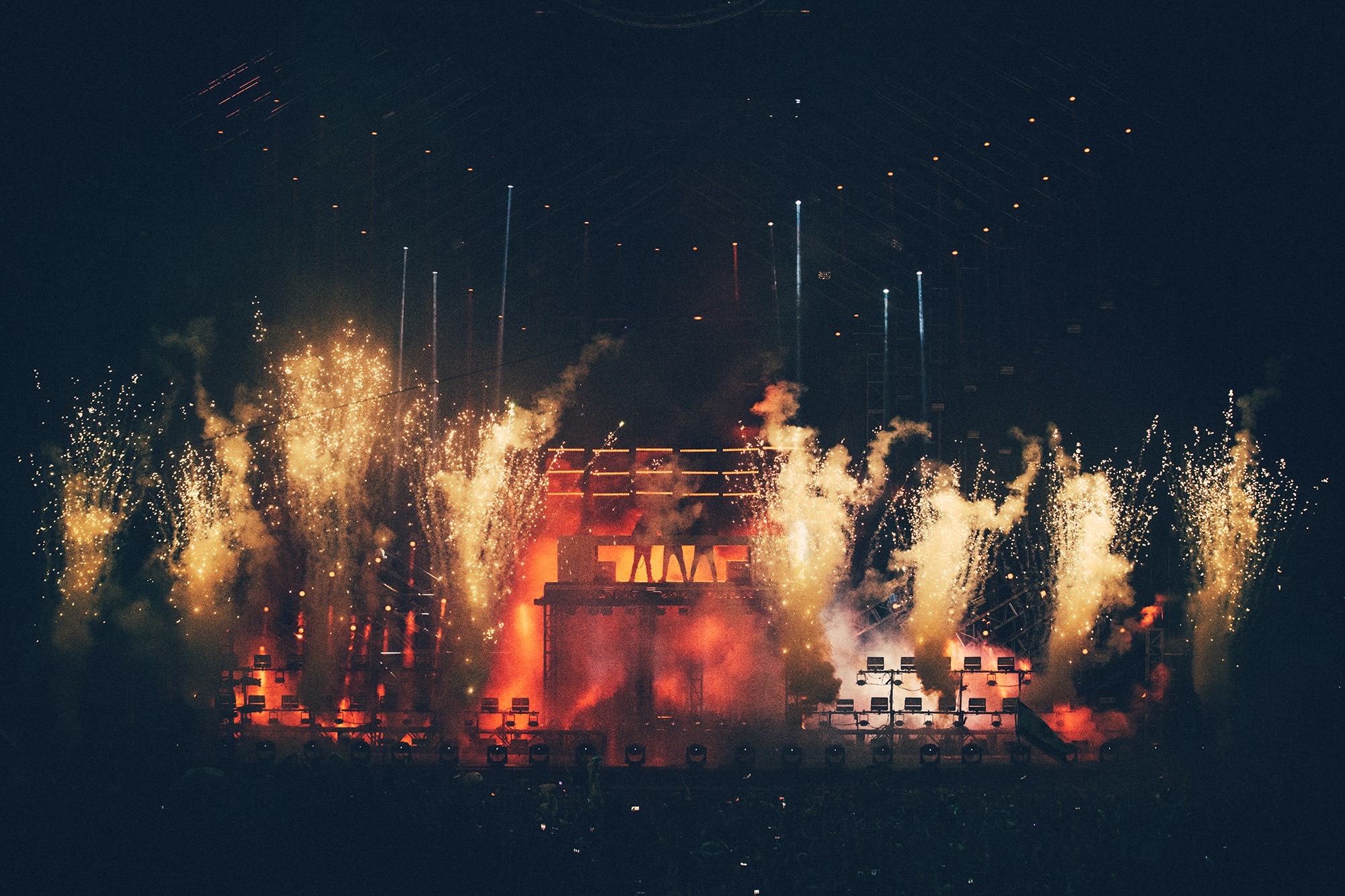 28 Mar

What We Saw at Ultra 20: Standout Moments From Ultra Music Festival 2018

What a stellar weekend at Ultra's 20th Anniversary. Really, wow! The weekend was entirely full of surprises, thrills, friendship, and of course, music. Running from Friday, March 23 – Sunday, March 25, dance music fans worldwide were celebrating in unison all that is Ultra on this very monumental year. With everything still buzzing around in our heads, we've gathered below some of the highlights from 2018's extra special show. We hope you enjoy!
Lords of Lighting
We witnessed an absolutely MIND-BLOWING performance by Lords of Lightning. Strolling up the hill at the back field of Main Stage, we stumbled upon one of the craziest spectacles we've seen yet. Standing there in absolute shock, we saw two guys dressed in full-body suits of armor, casually dueling with lightning. Their routine placed them upon pedestals while they battled and completely mind-f*cked the crowd. People gathered and circled around with mouths wide open, jaws dropped to the floor in disbelief at this madness they just happened to come across. With ninja-like swords in hand, they told a story as red and blue lights shined beneath them. What a truly mesmerizing and unexpected moment. If you haven't heard of them or were at Ultra and missed them, CHECK THEM OUT!
A Global Community
We all see and hear about the flags that people from all over the world bring to Ultra. It is one thing to see it on the live stream or to hear about it from friends, but it is a whole other to witness the neverending sea of representation from our beloved planet Earth. Everywhere you walk you see groups of friends from countries of all sorts. The random strangers you brush past and talk to often speak other languages. One, two, even three or more languages. The overwhelming sense of togetherness and community despite our different backgrounds was one of the more notable aspects of the festival. No matter where we each came from, it was amazing to be able to vibe with anyone, throw them a high-five while walking past, or walk up to a random squad and bust out some dance moves. It is amazing to be able to communicate with anyone under the same love of music that we all share, as is what brought us all together this weekend under the same sky.
Live Performances
Nothing like jamming out to some live music from some very talented artists/groups. The Live Stage always brings exciting talents of varying backgrounds to come and play for excited fans ready to vibe. This year's highlights included feel-good melodies from Empire of the Sun and powerful futuristic sounds from Virtual Self as one of his very first performances outside of Porter Robinson on Friday. Saturday hosted the likes of Ookay, Keys N Krates, San Holo, G-Eazy, and Tchami x Malaa among others. Fans were particularly excited for G-Eazy, as he has continued on the rise and brings exciting fire to each mind-boggling rap performance. Dedicated fans also went wild on Sunday for Modestep, Infected Mushroom, and Rabbit in the Moon, as well as a performance from The Wailers featuring Julian Marley. Keeping it casual as the seats filled up and the feel-good mood spread around, each performance at the Live Stage was something very unique indeed and pasted in our memories for years to come.
Epic Stages
To say that each and every stage at Ultra this year exceeded expectations could still be an understatement. From sheer amazement and wonder about how in the world these MASSIVE structures not only come together but flawlessly explode with endless lights, lasers, pyrotechnics, and sound like you wouldn't believe. While the Worldwide Stage provided a total chaotic umbrella of bass and flashing lights, the Megastructure encompassed non-stop strobes and lasers that reached as far as the eye could see back. The Arcadia Spider spit fire as the perfect complement to its high energy sound, Oasis held down a constant groove and beach vibe for fans, and the Live Stage bumped with all sorts of percussion, jazz, and reggae. And of course leave it to Main Stage to absolutely blow our minds with its enormous blaring combination of lasers, lights, fire, water, and stunning fireworks.
Boat Loads of New Music
Miami Music Week and Ultra are some of the most crucial foundation blocks to the calendar year of electronic music. Kicking off festival season and the worldwide celebration of a new year in dance music, it is AMAZING to be present for the release of such fantastic new tunes. One of our most favorites is Armin van Buuren's new ID "Blah Blah Blah," which rang throughout both his performance at Main Stage on Friday and at his two-hour ASOT show on Sunday. Alan Walker teased his new track alongside Armin as well when he brought him on stage on Saturday. Rezz, Slushii, Afrojack, Steve Aoki, The Chainsmokers, Marshmello, and more, more, more artists were up there playing their latest jams. Not only is Ultra the perfect opportunity to showcase new music, but it is also the place for new artists to emerge, and collaborations to come forth. Porter Robinson's new project Virtual Self performed Friday night at the Live Stage for the third time ever. Virtual Self has scored major attention recently with show-stopping visuals, setups, and futuristic inspirations as he sets forth on his new path. Overall we cannot wait to hear these tracks circling about all Summer long.
ASOT 850 Takes Miami
Ultra's third and final day was quite possibly the most anticipated day of the festival and for incredible reasons. From open to close, Ultra's Megastructure housed trance set after trance set, each hour vamping up the bass and amplifying the rolling bass. With ASOT'S signature "Be In The Moment" line popping up on stage and lining VIP with its banner, it was clear that the Megastructure was going to be home for thousands of trance fans for this special day. Marlo kicked off things with his quality group of fans dancing and jumping to every song and set the tone for the whole night in terms of just how crazy this stage was about to get. From there, Andrew Rayel took over and per usual, nailed his adrenalizing performance with heavy hitting tracks and euphoric melodies.
Vini Vici took ASOT to a new level with his tribal spirit and monstrous set. Closing out with none other than the expedition that is "Great Spirit," Vini Vici primed this crowd well for the rest of the night's journey. And when the clock struck 6 pm, it was time to let it all go, be in the moment, and live for the energy of two amazing hours with the King of Trance himself, Armin van Buuren. From the front to the back, Armin absolutely captivated the audience with his heavenly songs, transitions, drops, and energy that we all know and love. Just when the crowd thought the bass couldn't get any louder…Eric Prydz nearly blew the roof off with the speakers amped up even more, and relentless green lasers stretching as far as the eyes could see. All day paved the way for the legends themselves, Above & Beyond who closed out ASOT 850 with a true trance bang. The emotion and pure joy felt throughout the stage and crowd in this last day of Ultra are some to never forget.
Special Guests
From one set to the next to the next, each and every Ultra performance featured unique talent. Some extra memorable moments include when these talented artists are brought on stage to play amidst all the madness. After all, it wouldn't be a true Ultra celebration without very special guests joining fellow producers on stage to celebrate. Some highlights include Friday evening's set from Steve Aoki, where he elected to pull out Daddy Yankee, Elvis Crespo, Play-N-Skillz, and Desiigner to perform. Saturday was blazing with stars as Alan Walker had a special Main Stage moment with the King of trance Armin van Buuren, as well as Steve Aoki, and really let the love shine out through the crowd. Following Alan's set, Jauz felt the volume with boys Crankdat, Adventure Club, and Example. Marshmello's Main Stage performance hosted both G-Eazy and Will Smith, while just a few sets prior, Tiesto brought out Mello himself during "Silence." DJ Snake and J Balvin also united to perform "Mi Gente," while a special appearance from Halsey during The Chainsmokers for "Closer" put smiles across the audience's faces. We can't get enough of these fun and momentous sets.
Swedish House Mafia
Words are hard to come across for this one. For anyone in the crowd, you know. Being present for such an extraordinary moment in dance music history has left us with overwhelming feelings of thankfulness, appreciation, and respect for the community and industry we have created today. The legacy that Swedish House Mafia has left cannot be compared to. To see this amazing reunion come to life right in front of our very own eyes is a moment that certainly will not be forgotten. It was the most beautiful reminder of why we all began this – why we fell in love with dance music, why we forget our lives and return to festivals time after time, why we hold music as our escape to the world's problems. This one performance did so so much for those in attendance, and even those watching at home. The chills creeping up all over our bodies throughout the set were unreal. To see Axwell, Ingrosso, and Steve Angello high up there on a pedestal in front of tens of thousands of people, jam-packed way to the back underneath the trees – now that was magical. This was the most humbling, emotional, and magnetic show to be a part of, and we know these memories will last a lifetime.  
Source: The 450 Group
Photos: aLIVE Coverage